All the People, All the Processes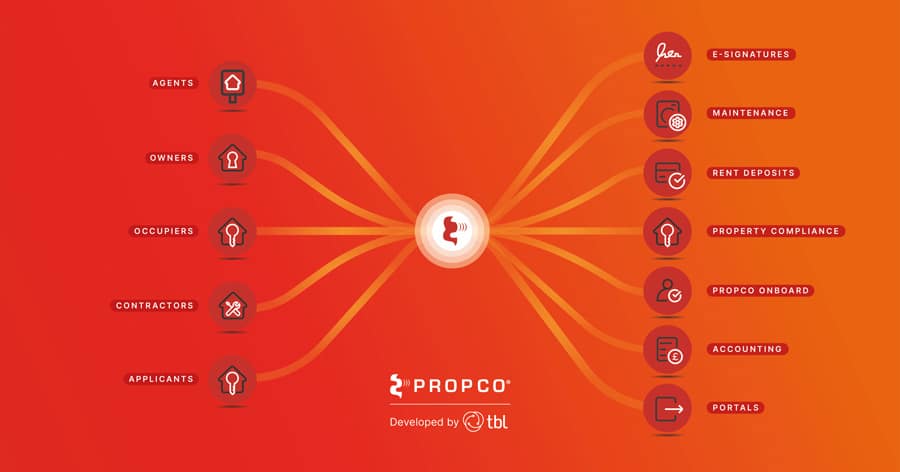 Transforming property management and the lettings lifecycle for 2 decades, Technology Blueprint's PropCo Enterprise technology connects and empowers agents, their clients, their suppliers, and their customers to work together to complete the complex real world transactions throughout the rental cycle.
Adam talks through the fundamentals, the state of the art, and the path ahead.
"Efficiency begins with everything in the same place"
The key motivation behind every Technology Blueprint product is a passionate commitment to making people's lives better. As technologists and futurists, we know that there's no point in creating a solution for today that will cause a bigger problem tomorrow.
PropCo is our market-leading letting agency software. One principle unites every possible integration and add-on in PropCo:
One platform, All people, All processes
I am Adam Blaxter Paliwala, and I am here to talk about technology to connect and empower agents, their clients, their suppliers, and their customers to work together to complete the complex real world transactions throughout the rental cycle.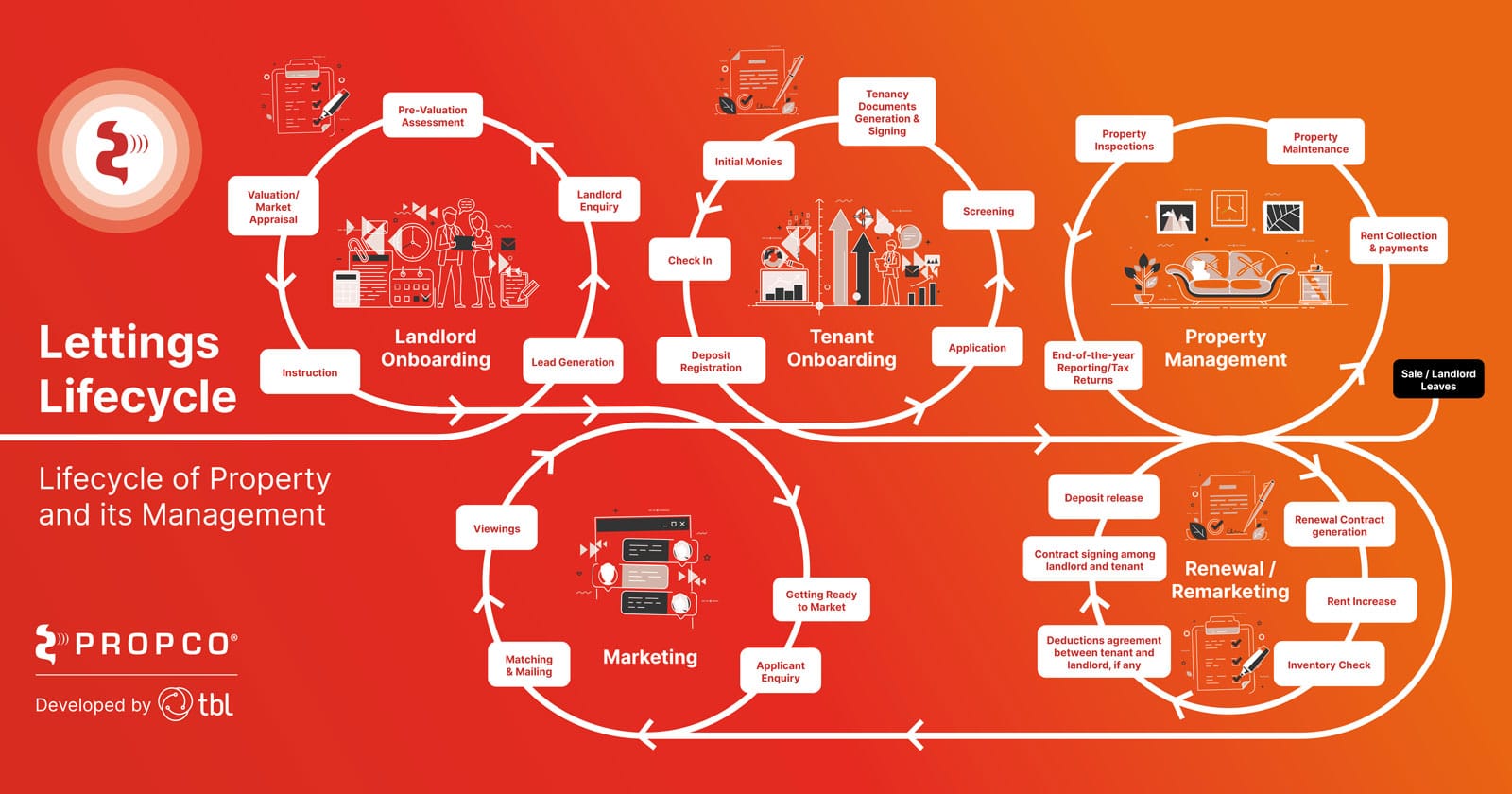 When Vik, Mark, and Stuart joined forces in the early noughties, it was to build on their commitment to develop world class software and services for the rental industry and to build on the experience they had already developed over a decade of doing just that.
Seeing the value of internet connectivity in operating property businesses at scale, they invested in re-engineering the 'Property Coordinator Professional' version system onto true web-based technologies.
Why? So that PropCo Enterprise customers could connect every single stakeholder in their operations together on a single, consolidated, audited database.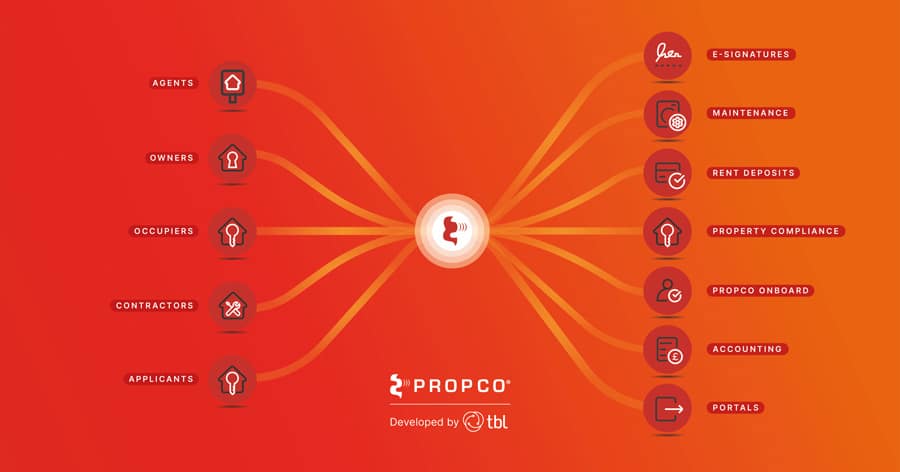 With everything in the same place, PropCo Technology enables opportunities of operational scale and consistency of reporting and data analytics while still allowing different areas of the business:
– accounts,
– compliance,
– negotiators,
– property managers,
– contracting
and any numberof different brands or operating centres and all their clients
– landlords,
– tenants,
– service providers –
to work, to access information, and deliver service in their own unique ways.
The fundamental idea is that all core business processes happen in one place and that everyone has access to the data they need to make the right decisions.
You might think that this is pretty obvious. However, without a vision to architect an integrated system, and the commitment to do just that, most property businesses are left purchasing thin slices of the solution from different vendors.
What's the problem with that?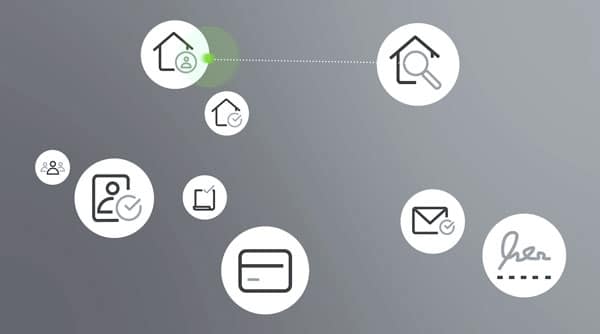 Example of typical disjointed, siloed systems
Well, just think of all the times when integrations between software from different vendors doesn't fit together as well as you'd hoped.
Only some of the information you need is available, or you and your teams end up logging in to several different apps to get all the information you need to do your jobs right.
Of course, people are the most valuable and flexible tool that we have in any business, and every successful operation has found a way to make things work for them, whether it be:
well-organised filing cabinets,
data feeds to a separate MI system,
daily or monthly reporting via spreadsheets, or
actively searching portals and dashboards for insights.
And, of course, the PropTech industry is rapidly developing remarkable and game-changing innovations that are digitising and transforming all of our working activities.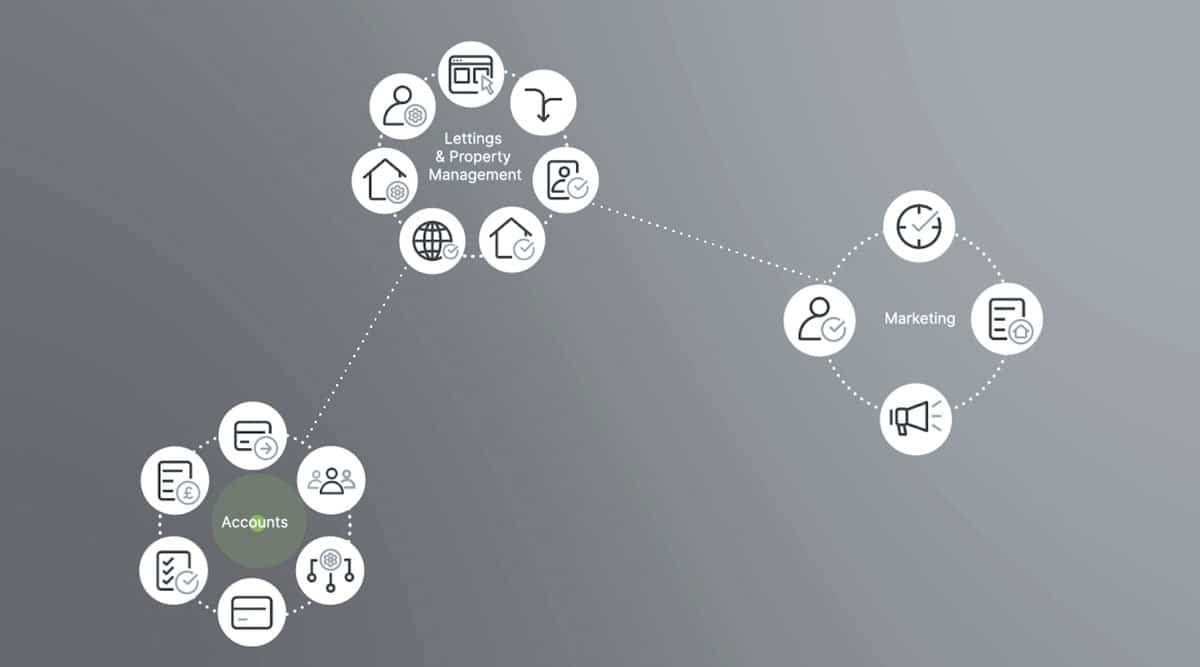 PropCo – all systems, all processes
And, it's certainly not that software developers set out to make people's lives difficult. Quite the contrary: almost everyone in technology is actually focussed on making things better, and we are!
Some companies attempt to tackle this problem by investing in feeds, plugins, integrations, or 'app-ifying' their ecosystem: allowing the necessary flexibility of choice.
But is anything lost in the process?
The problems of integrations and multi-vendor business solutions actually occur because some developers, and some businesses, choose to focus on quick wins, and miss out on the big prize.
Incremental, tactical gains are favoured, rather than a genuine, wholesale strategic transformation where information about all the relevant processes is available to whoever needs it for the entire lifecycle of a rental property.
What does that actually mean for rental agencies?
In our business, founder led and with a focus on the long-term viability of our technology and services, we take pains to ensure that we are delivering well-architected solutions that are truly transformative.
The results are experienced throughout our customers' organisations, and their networks of stakeholders.
Of course, we have an animation of this…
Here are some real-life examples:
Average tenant registration time down from 7 days to 70 minutes.
A landlord gets in touch. They have been selected for a tax audit and need several years' worth of records for his rental portfolio. PropCo creates those instantly and gets them to him within minutes.
Daily tenant renewals capacity increases by 100%
Accounting Transactions –
Balance Sheet Audits – 30minutes
landlord payouts (volume and time and clicks)
Each of these gains have been measured by our clients against the benefits of solutions they had in place before they adopted PropCo at the centre of their business.
PropCo today has thousands of daily Agency users and tens of thousands of their customers accessing and working with data on around 12% of the whole U.K. agency rental market.
We process 3 billion pounds in transactions each year, reconciled to the penny.
Tens of thousands of rental agreements are arranged, contracted, and managed every single month of the year.
This is being done by many Agency customers under multiple brands, but each customer organisation has a single consolidated database with a deep and rich audit history. And that high quality database is really important.
Having a handle on your data might not seem like the most exciting thing in the world. But it should be. It is the 'big win' for our customers that Mark, Stuart, and Vik invested in right from the start.
Great technology is an essential catalyst for business growth. Consider these two key aspects to the role that data plays in a business.
Firstly, in a service business, moving information around can take up a lot of time. Just think about the process of finding and contracting with new tenants, for starters. The landlord, agent and prospective tenant all have information to add to the process.
With a platform like PropCo, all of those people can 'do their bit' digitally, with no-one else having to re-enter or re-key their information or send it elsewhere for additional processing. The PropCo system gets the right information, from the right place – the person or data source closest to the facts – in a time-saving fashion.
Think of the chaos that can ensue when an agent takes down someone's name, or email address, or phone number incorrectly on the phone.
This data should be correct, needs to be correct, and we have a responsibility for ensuring it is correct: not just to that person under GDPR and other applicable legislation, but also to our operational teams who will rely on that information every time they need to contact the client.
That chaos is avoided when someone submits their own details directly though a web or mobile app that writes this core information directly into the same database that is accessed by everyone else in the business.
The results? Better quality data, less work for your teams, better security, more compliant, more opportunities for growth. Those are the principles that drive PropCo customers to work with us to maximise the effectiveness of our technology in their businesses.
Secondly, the best business decisions are made based on data. Anything else is just a guess. And to make high quality decisions? The quality of data is key. Clearly, giving the person closest to the relevant data control over how it is added to the platform is hugely beneficial in terms of maintaining high levels of data quality.
And having technology that is tried and tested and proven to work hard while maintaining the integrity of your data means you can rely on the data within your organisation to make high-quality decisions.
But when that data is spread among different systems, your business can end up in an even weaker position than when the same information is spread out across different departments, and different people: and while great leaders know how to enable different teams to work well together to achieve a common goal, how to get the best results from the vital human element of your business, it takes technologists and business managers working together to do the same work with different technologies.
And, when all those additional stakeholders are in different organisations, again, it opens the door for information loss, complexity, and chaos.
Simply pulling all the data together is a project in itself, and what separate systems do not record, well, it is lost. The risk is that you will end up with blind spots in your business due to gaps between the way systems record, file, and share data. And blind spots can make for bad decisions. Having access to key information remotely has become universally recognised as critical for businesses that need to adapt and change.
Being able to count on swiftly gathered, high-quality data to make the right business decisions, high quality data is unquestionably an essential ingredient for growth. Automating as many processes as possible, cutting down on unnecessary admin time and allowing agents to build strong relationships with clients and prospects makes perfect sense.
In PropCo, every person's actions and transactions are recorded, for reference. On top of providing great record keeping:
meticulous accounts,
tenancy records,
maintenance logs,
and the rest, the platform keeps a complete history of every change. This makes auditing your business easy.
Our services are highly available, with uptime SLAs and Disaster Recovery assurance available, and our database is highly scalable, meaning we can service businesses of any size, any where.
And we are a team that constantly looks to the future to help companies to grow their businesses, investing in architecting and delivering technology at the highest level now and in the future, just as Mark and Stuart intended when they started Technology Blueprint, 25 years ago.
We integrate with best in class technology services, but look ahead: remaining agnostic when it comes to technologies or service providers.
Extending our platform, for our customers, and for their clients, while ensuring that the core data on what has happened and when is always retained, always of the highest quality, is what makes PropCo so effective at delivering efficient business processes.
It is all about bring people together around the data, because Efficiency Begins with Everything in the Same Place. Our mission is about more than APIs, Apps, Plugins, and new Modules: it is about making the property journey joyful.
How? By connecting all the people together, fulfilling all the processes gracefully, and managing all the property relationships consistently, but with respect for all the nuance of quality service delivery, everywhere.