One platform, All people, All processes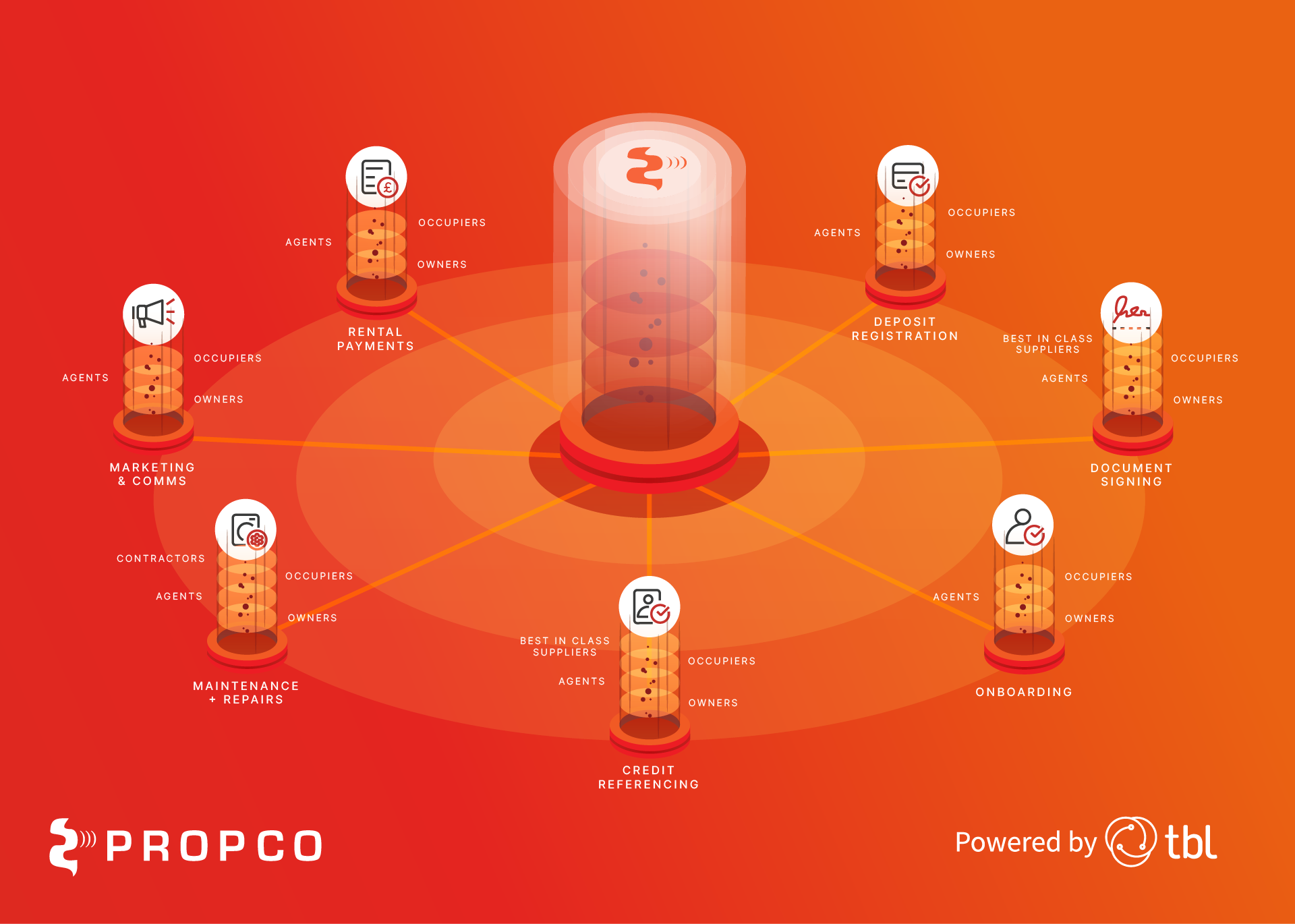 Efficiency begins with everything in the same place
The key motivation behind every Technology Blueprint product is a commitment to making people's lives better.  As technologists and futurists, there's no point in creating a solution for today that will cause a bigger problem tomorrow. Take PropCo, our market-leading letting agency software. One principle unites every possible integration and add-on in PropCo:
One platform, All people, All processes
The idea is that all core business processes happen in one place and that everyone has access to the data they need to make the right decisions. You might think that this is pretty obvious. However, just think of all the times when integrations between software from different vendors doesn't fit together as well as you'd hoped. Only some of the information you need is available, or you have to log in to several different apps to get the required data.
It's not that software developers set out to make people's lives difficult. It's more that some developers choose to focus on quick wins. Incremental, tactical gains are favoured, rather than a genuine, strategic transformation where information about all the relevant processes is available to whoever needs it for the entire lifecycle of a rental property.
What does that actually mean for letting agents? Here are some real-life examples:
Average tenant registration time down from 7 days to 70 minutes.
A landlord gets in touch. He's been selected for a tax audit. He needs several years' worth of records for his rental portfolio. PropCo creates those instantly and gets them to him within minutes.
A recent client has seen daily tenant renewals capacity increase by 100%
Having a handle on your data might not seem like the most exciting thing in the world. But it should be. Great technology is an essential catalyst for business growth. There are two key aspects to the role that data plays in a business.
Firstly, in a service business, moving information around can take up a lot of time. Just think about the tenant onboarding process, for starters. The landlord, agent and prospective tenant all have information to add to the process. With a platform like PropCo, all of those people can 'do their bit' digitally, with no-one else having to re-enter their information or send it elsewhere for additional processing. The system gets the right information, from the right person who is closest to the facts, in a time-saving fashion. Think of the chaos that can ensue when an agent takes down someone's name, or email address, or phone number incorrectly on the phone. That situation is rare when someone is inputting their own details.
Secondly, the best business decisions are made based on data. Anything else is just a guess. As a result, the quality of data is key. Clearly, giving the person closest to the relevant data control over how it is added to the platform is hugely beneficial in terms of maintaining high levels of data integrity.  In PropCo, every person's actions and transaction notes are recorded, forever. The platform keeps a complete history, but also looks to the future to help companies to grow their businesses.
COVID-19 has undoubtedly accelerated the pace of change within the lettings industry. Having access to key information remotely has swiftly become critical for businesses that need to come back fighting. Being able to count on swiftly gathered, high-quality data to make the right business decisions is unquestionably an essential ingredient for growth. Automating as many processes as possible, cutting down on unnecessary admin time and allowing agents to build strong relationships with clients and prospects in the months and years ahead makes perfect sense. And in truth, it always did.